Discover more from A Continuous Lean
Style, watches, menswear, travel, consumerism, service, wine and fatherhood. Founded in 2007.
Over 18,000 subscribers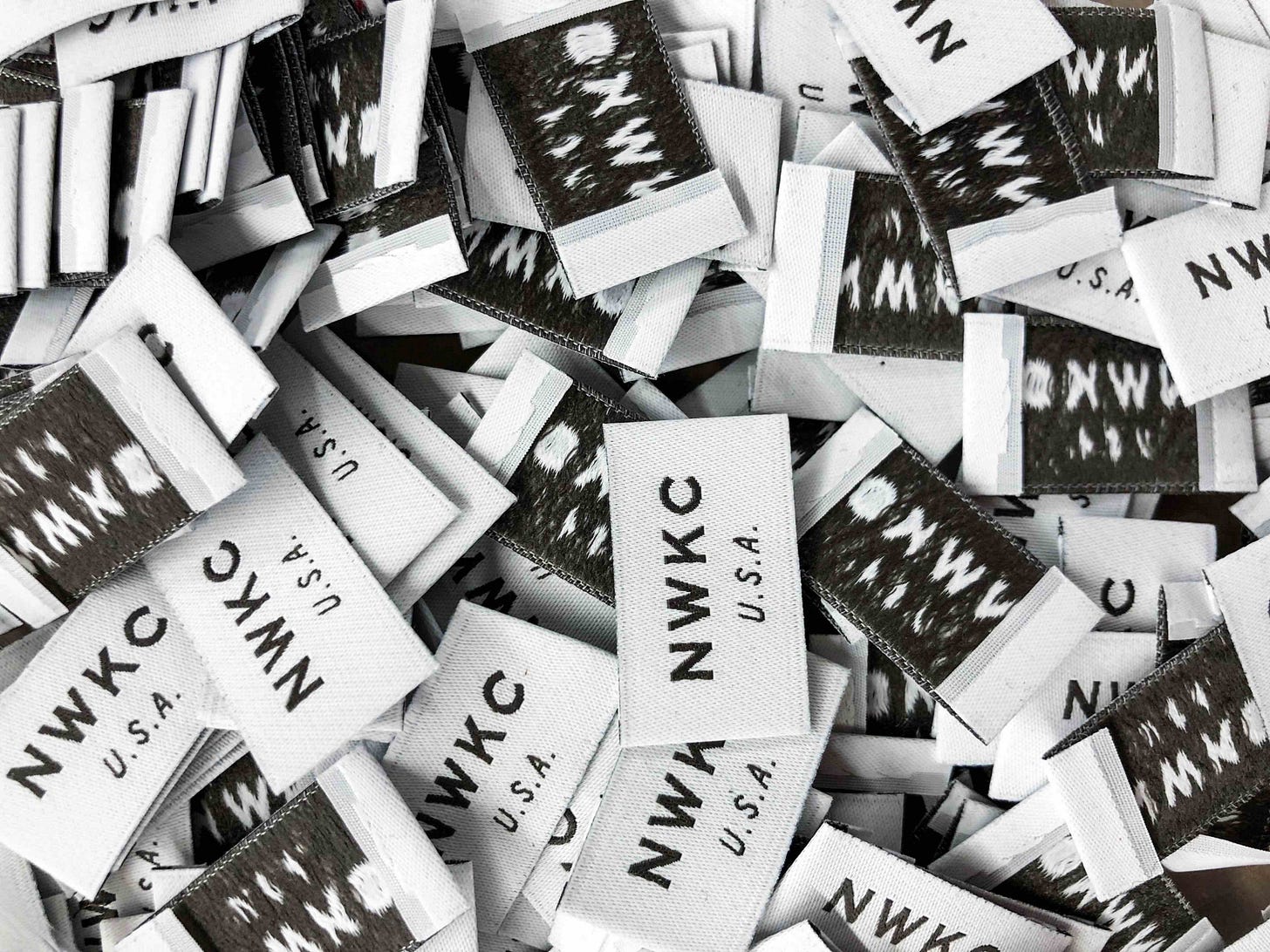 Here's a scenario. You get a great idea for a clothing brand. The concept is simple: create a super minimal and functional clothing based on a historical fabric innovation. You secure the IP and get to work designing. You are just one person but you figure out how to make a special fabric at one of the few remaining mills in the U.S. Then you find a factory in New York's garment district to cut and sew everything. You build a website, shoot all of the product, run the social media accounts and figure out how to drive traffic. You do all of this while designing and sourcing every component of every piece of clothing. It's a family business and you don't have big investors backing the company. You are one man.
That's actually the story of Northwestern Knitting Co.
NWKC isn't flashy. It doesn't feature in the hype channels. It doesn't have a cafe in NoLiTa and doesn't show up in the scroll very often. The founder John Mooty is a quiet and humble guy. He seems most comfortable with his head down working away and attending to the details of his little brand.
If someone asked me to list the things that I've worn the most over the last 10 years my NWKC mid-weight crewneck is right there. I mentioned this on ACL earlier this year and a lot of people seemed to take note. That made me happy because NWKC is really the type of company that I want people to embrace. I'm no different from anyone else who loves to share the good discovery of a favorite brand.
I've known John since his days at Faribault and from various Pop Up Flea events. He's got great design instincts and has figured out how to make truly special product. There are elements in NWKC that are so far beyond what you would see in most brands. It's rare to find a founder like John who would go to these extremes. It's not common to see someone relentlessly stick to his vision the way John has. I can't even start to explain how much I admire his grit. The clothing business is not for the faint of heart.
I look at what Mooty has built and I wonder why more people don't geek on it the way I do? Why don't the Japanese don't embrace it more? I don't think I've ever owned a more versatile piece of clothing. I was reading on Reddit that people think the concept of merino paired with cotton is stupid. I personally love it. I'm a fan of pure merino straight-up, but I also think the way NWKC's "Dual Cloth" feels and wears is better than even super-soft merino. I just love the flat exterior of the garments, the comfort and how they wear. NWKC is the perfect thing to pack when you want to travel light. I wear it often for cool morning rounds of golf. Often it was my go-to for shuttling back and forth to NYC. It's like John — humble and hard working.
I like that NWKC is it isn't designed to stand out on a screen during an IG binge. I don't care that there aren't campaigns backed by huge performance marketing budgets to drive new customer acquisition. I want to buy good product, I don't want to buy good marketing.
Most people don't know about NWKC because all of the marketing is in the product. The only reason I know the brand is because I know John. Some people may know it from PUF or from people like Bernard from Acquire who have supported it. It's a shame that it can be so difficult for people to find out about brands like NWKC. It shouldn't be that the most obnoxious and trend driven brands get the most awareness. All of that noise is making it impossible to hear the good voices from the product focused companies like NWKC.
I wanted to talk to John and shed some light on what he has built with NWKC. Our Q&A is below.
---
ACL: The authentic history of Northwest Knitting Co is interesting to me. How did you get control of the name to restart the brand?
John Mooty: When Munsingwear was bought by Perry Ellis, they dropped the trademark to their original formation as the Northwestern Knitting Company so the name itself was sitting out in the open. I stumbled on it because I was living in what was the NWKC factory building (now offices / apartments) when I was in grad school. I knew I wanted to put together a built-from-scratch, US-made knitwear project but was in the early stages of figuring it out.
My Dad and I were at my place talking about what the name should be and after going through Minnesota history books (a prereq was that it had to be MN related) and google searches, realized we were sitting in the answer. We try to keep the explicit history at a distance as we don't own it to that extent, but the project and its fabrics are very much inspired by it and try pay homage to it, down to the fabrication mindset that George Munsing had for their original merino/silk double knit that propelled them to be the country's leading underwear manufacturer throughout the early 1900's.
Do you have a background in textiles and manufacturing? How does someone start making clothes that are as involved as NWKC? 
I didn't go to school for it but for the majority of my career I have found myself learning about textiles, beginning with helping to revive the Faribault Woolen Mill back in 2011. I helped build out the brand, product line, collaborations, and ultimately the Mill's overall positioning. Through that time, I started to get a feel for production methods, fabric construction, and the intricacies that should be considered to make worthy fabric. The Mill also formed the values that I still hold onto - When you can make it and make it well, make it here. Put good in, get good out. Quality over scale...all thoughts I have found to be a gift and a curse. 
I am not a technical expert but I have been able to develop a perspective based on the things I've learned and understanding how to channel the inspiration that comes from what others are doing / have done to create what I would like to think is my own interpretation. That perspective also depends on having really good people to work with at every step in focusing the idea and bringing it to life.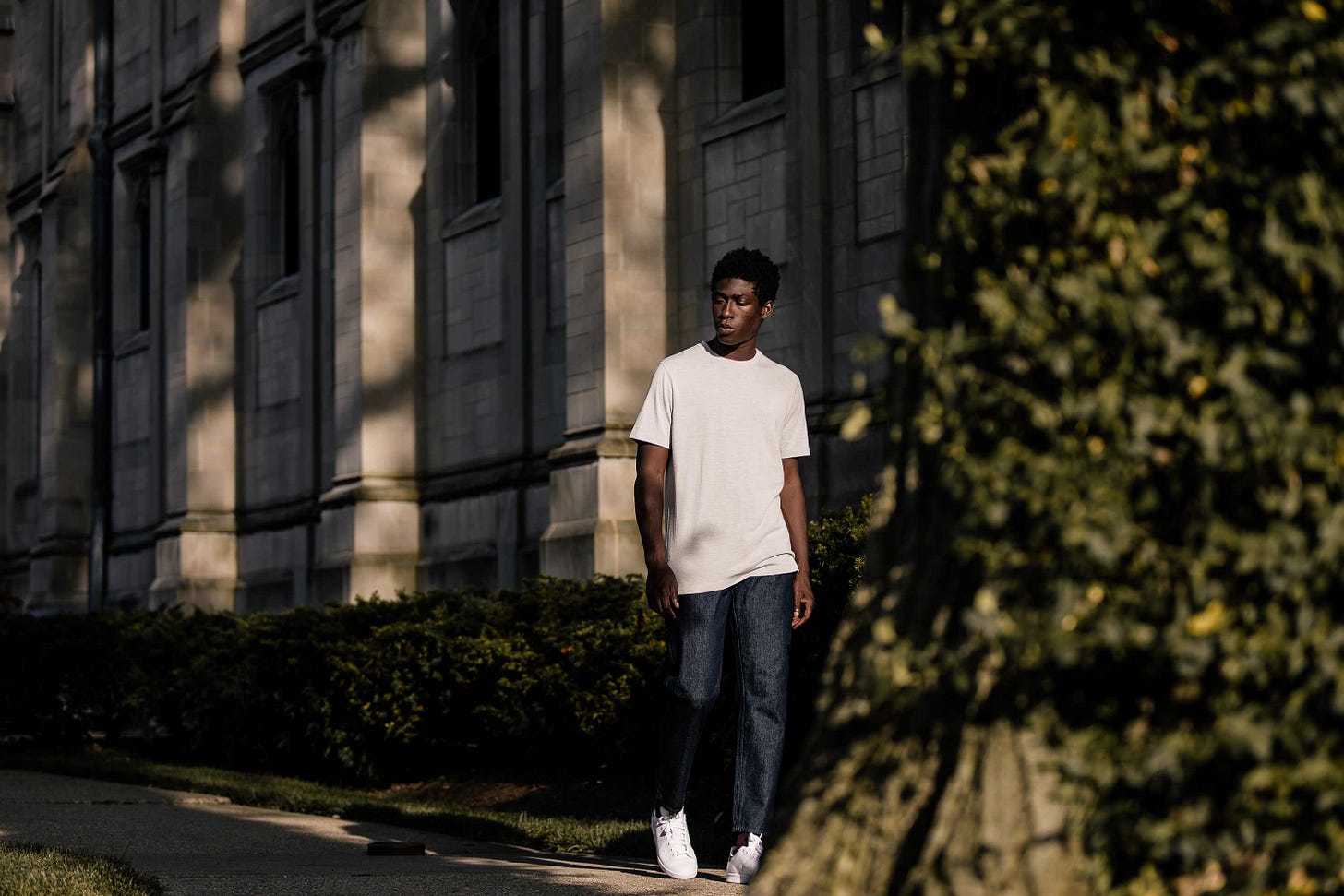 I've seen a lot of new styles available this year — including some lighter weight things. How has the collection evolved over the years?
It started with the original Merino Dual Cloth, a mid-weight double knit with merino on the face and a tri-blend reverse layer, that came together serendipitously through a friend I met while working at the Mill.
Since then, we have tried to keep a consistent thought process and justification to all fabrics and constructions that have come after it. Utilizing merino as a main component, focusing on the function of dual layering, and sourcing globally only when we can't find the best inputs made here in the US (fabrics, yarns, zippers, trims, etc).
So it has been a combination of expanding the assortment by adding new inputs while also using what we have on hand to experiment with different variations. This year will be mostly the latter where we are sitting on yarn from current fabrics but wanting to see what new holes we could fill: running some tees with a lightweight Merino/Coolmax interlock, trying our crewneck and pullover hoody in a mid-weight pique, and experimenting with overdyed versions of our original weight styles...trying to keep it fun and interesting without cost intensive development. 
In the same vein, we are hoping to test the idea of making our core line up for kids in a small set of sizes (5-10yo) using the same fabric and manufacturing detail as the standard line up. We have debated the potential absurdity of making expensive kids clothes in a historically disposable category and in the midst of a pandemic. But at the same time, why not apply the same buy less buy better approach to their closet? More utility, less laundry, less trash. The hope is that these are a different type of heirloom in that it gets passed from kid to kid, family to family. My son's favorite stuff to wear is from my youngest cousins. They have held up over time and because it is from them, makes it even more fun for my son. So we'll see how that goes.
How hard is it to make stuff in the USA at this point? It seems crazy.
For us, it is the only way we can operate. Both because of my past experience as well as the small scale of the project. Our knitting mill partner in New Jersey is willing to do small batch product development and production runs, our cut and sew partner in New York City is incredible at filling information gaps, and all are set up for clear, open communication...none of which could reasonably work in an overseas setting. 
The other aspect is in this set up, I never have to worry about quality. The only way our partners have been able to survive the shifts in this industry is by doing things the right way and not cutting corners. We pay a premium both for their quality and willingness to do small runs, but I am happy to do so knowing what comes out of it is always solid. 
Do you feel like Merino is overlooked and underestimated? 
I think those that use it and get it, love it. It is not always viewed as a mass market fiber due to cost and some preconceived notions about it being scratchy, not fit for warm weather, and hard to maintain. It is also very dependent on quality. There is merino fabric in the market that is scratchy, doesn't hold up, and is very expensive but the yarns we get from Suedwolle are everything you would expect in a durable and comfortable, reasonably priced merino garment.  
Fun fact, I am allergic to wool so selfishly having merino with a layer of cotton against the skin was also a way I could wear it without having an allergic reaction.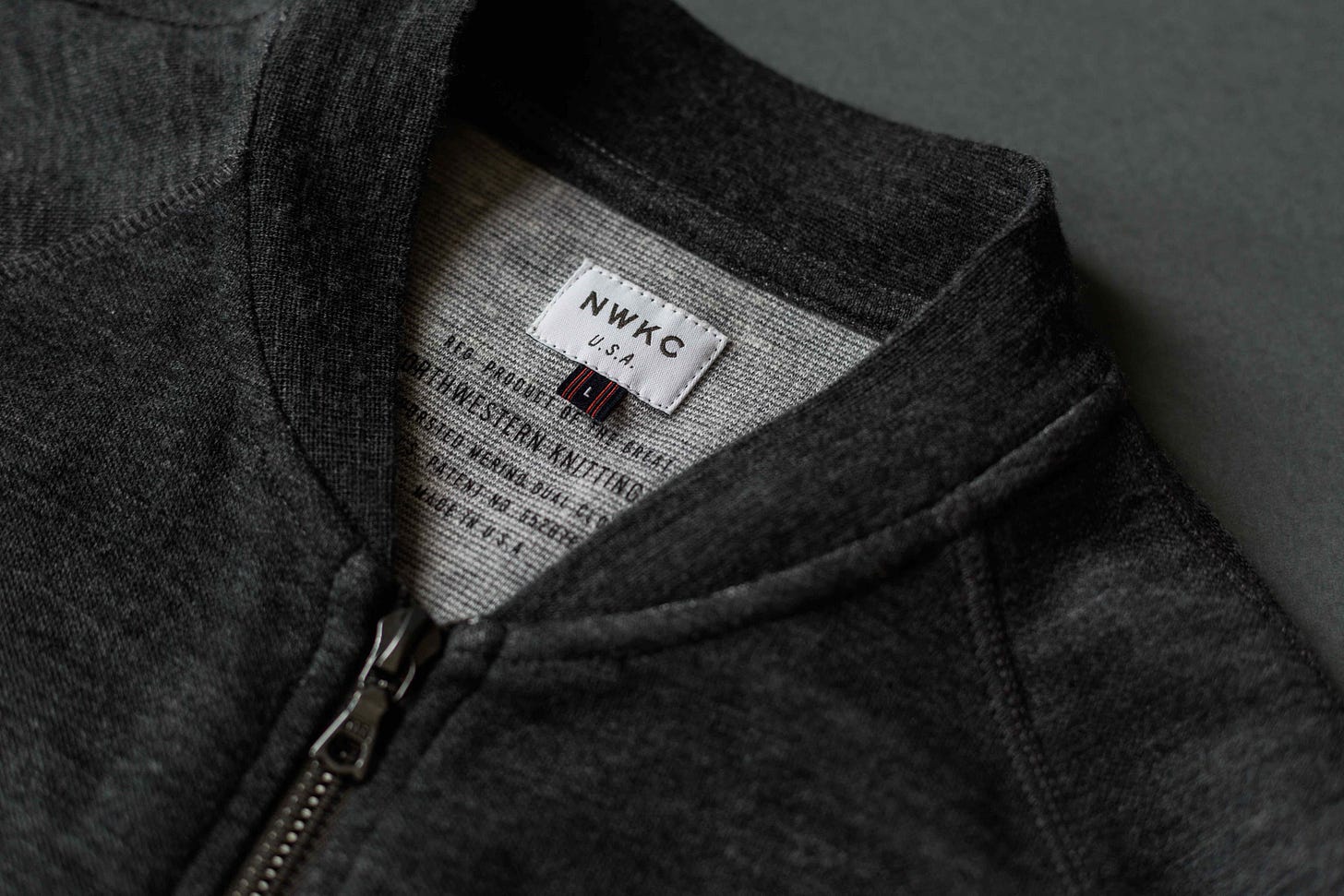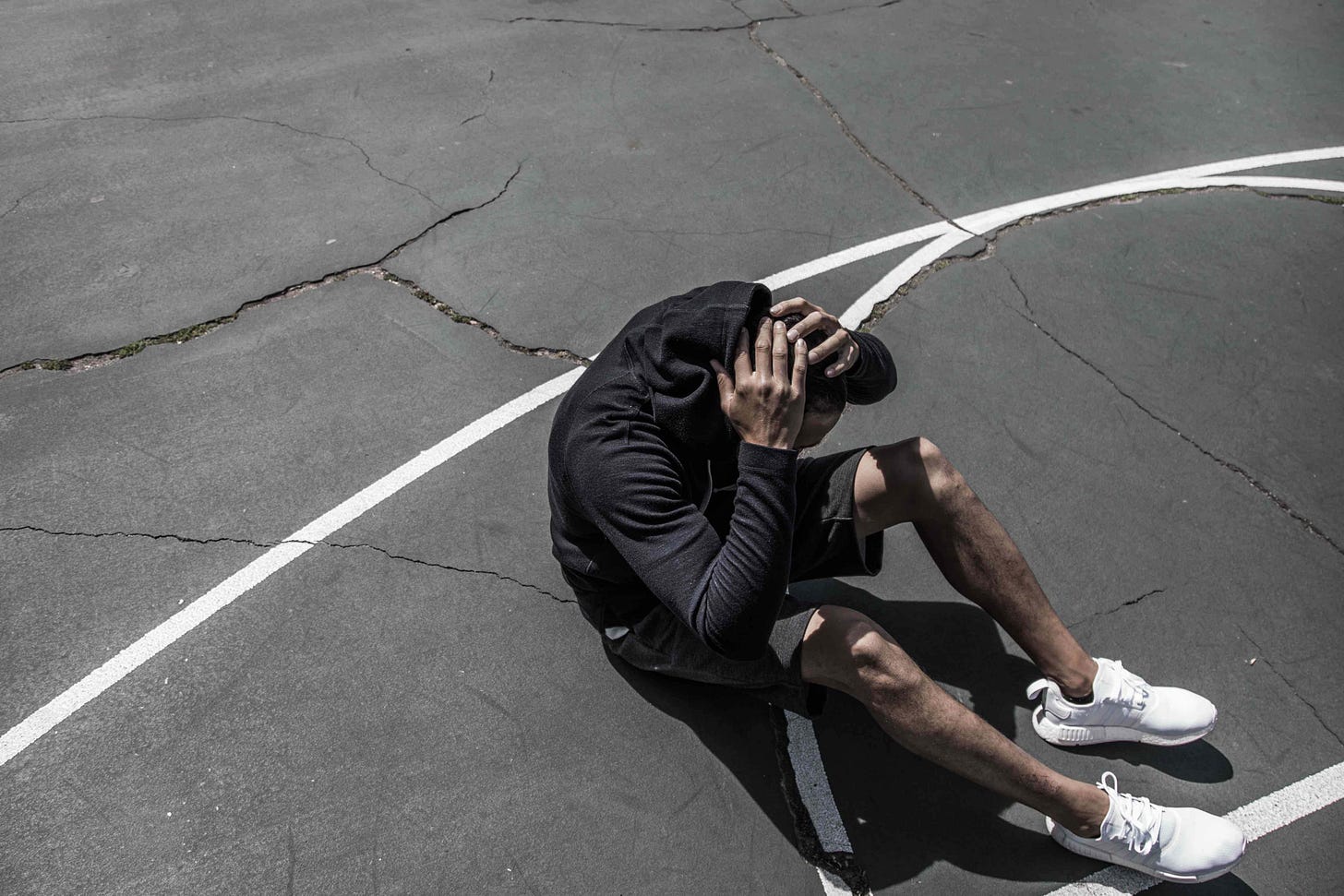 Do you see it as an athletic brand, an everyday brand or some sort of combination?
It isn't an athletic brand in that you wouldn't want to run a marathon in it but it is something you should be able to wear in an unusual amount of instances. So I would peg it as a hybrid of the two.
Take the crewneck for example, the idea is that you should be able to wear it from start to finish over the course of a normal day. Whether that entails going to work, playing with your kids, getting on a plane, laying around the house, or going out, you shouldn't have to change from activity to activity. It should be effortless in wearing it and caring for it. So can you run a marathon in it? No. Can you wear it 99% of the time doing regular stuff? Yeah.
NWKC is a nice mix of classic and modern materials. What's your design philosophy for the collection?
The idea is making classic styles in a cleaned up aesthetic that let you get away with wearing something comfortable and approachable in a wider array of settings than you otherwise would be able to in traditional constructions and materials. Using merino yarns also helps dress it up just enough and gives it a workhorse mentality where it isn't fragile. This thought process is not new to menswear but I do think our stuff truly allows for it rather than being solely a marketing strategy.