Discover more from A Continuous Lean
Style, watches, menswear, travel, consumerism, service, wine and fatherhood. Founded in 2007.
Over 18,000 subscribers
Over the years, I've gone to factories all over the world out of my own curiosity. I'm surprised when most people tell me that they have never seen a factory operate first hand. Collectively we have become so far removed from the things we buy, it's easy to overlook where or how things are made. It's easy to overlook the human and environmental cost of things. It's not our fault, many of the problems are hidden from consumers. We don't see how the system creates incredible waste. We just walk out our door and there's a box with a smile on it and we are momentarily happy. We're also happy to not be burdened with what is happening to people or the earth. I'm not saying anyone is at fault for shopping, I think we all need to be more accountable for what we buy. I'm in that boat as well and it's something I worry about.
I don't want to speak for everyone, but in America we don't seem to be taking the climate crisis seriously. In Michael Lewis' book The Fifth Risk something he said jumped out at me about American culture. "Americans are great at responding to disasters but bad at preventing them." The quote was in reference to the Joplin tornados in 2011 that killed 158 people. The national weather service had issued a warning 17 minutes before the deadly event but some people didn't heed the warning. There was an outpouringly positive response from the community afterward, which helped shaped Lewis' statement. If you look at what is happening currently with this coronavirus there's a parallel to what Lewis identified. I just hope climate change doesn't follow the same pattern. If COVID teaches us anything, it's that massive and unimaginable problems are actually possible and the world needs to actively work to prevent them.
I'm obviously not a sustainability expert, but I have seen how fashion brands are taking on the problem of climate change. I've worked with people who are trying to do the best they can to create a truly sustainable brand. Through that I've seen firsthand just how much bad information is out there. That experience has also showed me that there are brands out there who are doing something special, and Askov Finlayson is one of them.
It's not easy or inexpensive to be sustainable, especially for a small company. It's also not easy to make sustainable clothes that look good and are well made. I wanted to talk to Askov Finlayson founder Eric Dayton about his take on the important issues of sustainability and climate change. Our Q&A is below, I hope it resonates with you.
---
ACL: I sense that many people are re-examining their relationship with clothing at the moment.  Do you think the pandemic will make people fundamentally change their buying habits? What do you think the future holds?
Eric Dayton: I hope so, and I don't just think it's the pandemic. We're living through a moment in history defined by concurrent, compounding crises: COVID, climate, and racial inequality. It's a time when a lot of people, myself included, are re-examining our lives and what's really important to us. ACL has been a longtime champion of buying fewer, better things and I'm optimistic that will be a lasting shift. But I'd argue we need to rethink what we even want in the first place. You and I are both car guys, so I'll use the Audi RS6 as an example. I've dreamed of owning an RS6 for as long as I can remember, but they weren't available in America. And that made me covet it even more. Last year, Audi finally relaunched the RS6 in the U.S. market, but I was no longer interested. Why? Because I've come to believe that driving a 600hp rocket wagon in the midst of an existential environmental crisis is unconscionable. I traded my combustion-engine vehicle in for an EV last year and I know you did, too. To me, that's what's cool in 2020.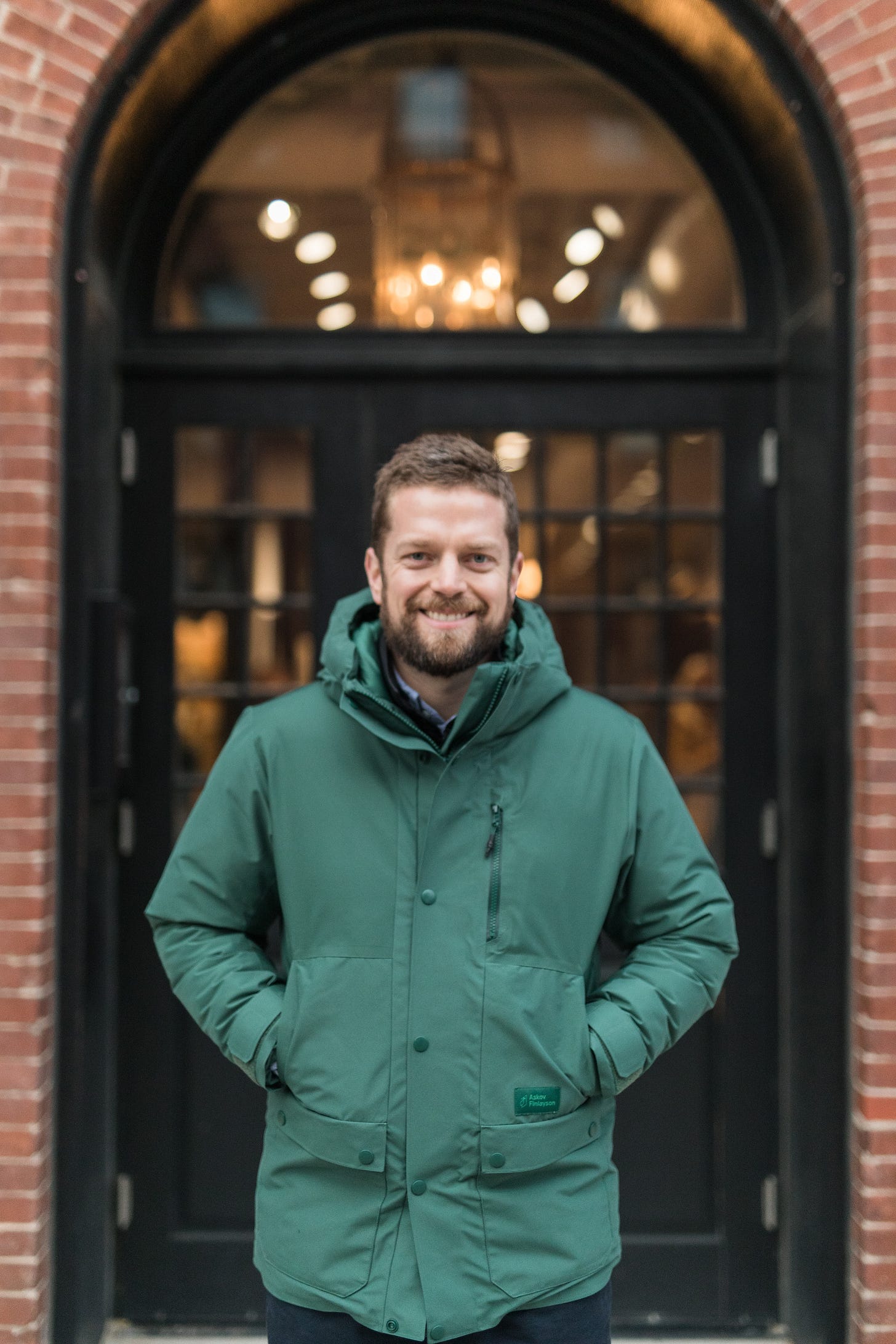 Askov Finlayson Founder Eric Dayton in Minneapolis, MN.
Askov Finlayson as a retail shop was extremely popular. What motivated a change in direction with the brand to relaunch as an outerwear focused company focused on environmental causes?
We had been running Askov Finlayson as both a store and a brand since 2013, when we first introduced our own products alongside the other great brands we carried. And we reached the point, around 2018, that I realized we had to choose – we couldn't be great at both. And once I accepted that the choice was easy. We had the strongest momentum around our brand, as well as the greatest growth potential. It's also where the team and I had the most passion and enthusiasm. And lastly, strategically, I could see the writing on the wall for multi-brand retail. If you didn't have something to offer that was uniquely yours, retail was becoming commoditized. As a former hockey player, you grow up hearing Wayne Gretzky's maxim, "Skate to where the puck is going, not where it has been." And so that's what we're trying to do. 
Was there one moment when you realized how just how important climate change is?
I was first introduced to the issue by one of my heroes, Will Steger, who is a legendary polar explorer and a fellow Minnesota native. I was on an expedition team Will led in 2004 across the Canadian Arctic. We traveled 2,000 miles by dogsled, and along the way, we stopped in remote Inuit villages. We would meet with the elders and record their oral histories of the effect climate change was having on their communities and their culture. And that's when I first realized that this wasn't an abstract issue, but one that would impact our lives in my lifetime. More recently, I had the opportunity to travel to Greenland with the World Economic Forum. We received briefings from leading climate scientists that included their dire projections for the next 50 years if we don't act in the next 10. And as we're hearing this, I'm looking out the window at glaciers calving enormous icebergs into the sea. It was a profound experience, and I made a promise to myself that I would spend the next decade of my life doing everything I could to try and solve the climate crisis before it's too late. 
What does it really mean to be a climate-positive company? 
It means being accountable. Like any company, we have a negative impact on the environment through what we do. And so first we try to minimize that impact through all the decisions we make, whether it's sourcing 100% recycled materials for our products or sourcing 100% renewable energy to power the lights in our offices. But even then, we're still leaving a footprint. And so being climate-positive means taking responsibility for that and doing more good than harm. We measure our CO2 emissions, everything from our supply chain to shipping product to our customers, even employees commuting to and from work (back when they used to do that!). At the end of the year, we calculate the total and then convert it into a dollar amount using the true social cost of carbon, which is significantly higher than the cost of carbon credits alone. We then give away 110% of that annual total through investments in organizations on the leading edge of solving the climate crisis. It's the only way we can look our customers in the eye – and ourselves in the mirror – and credibly claim that we're contributing to the solution, not part of the problem.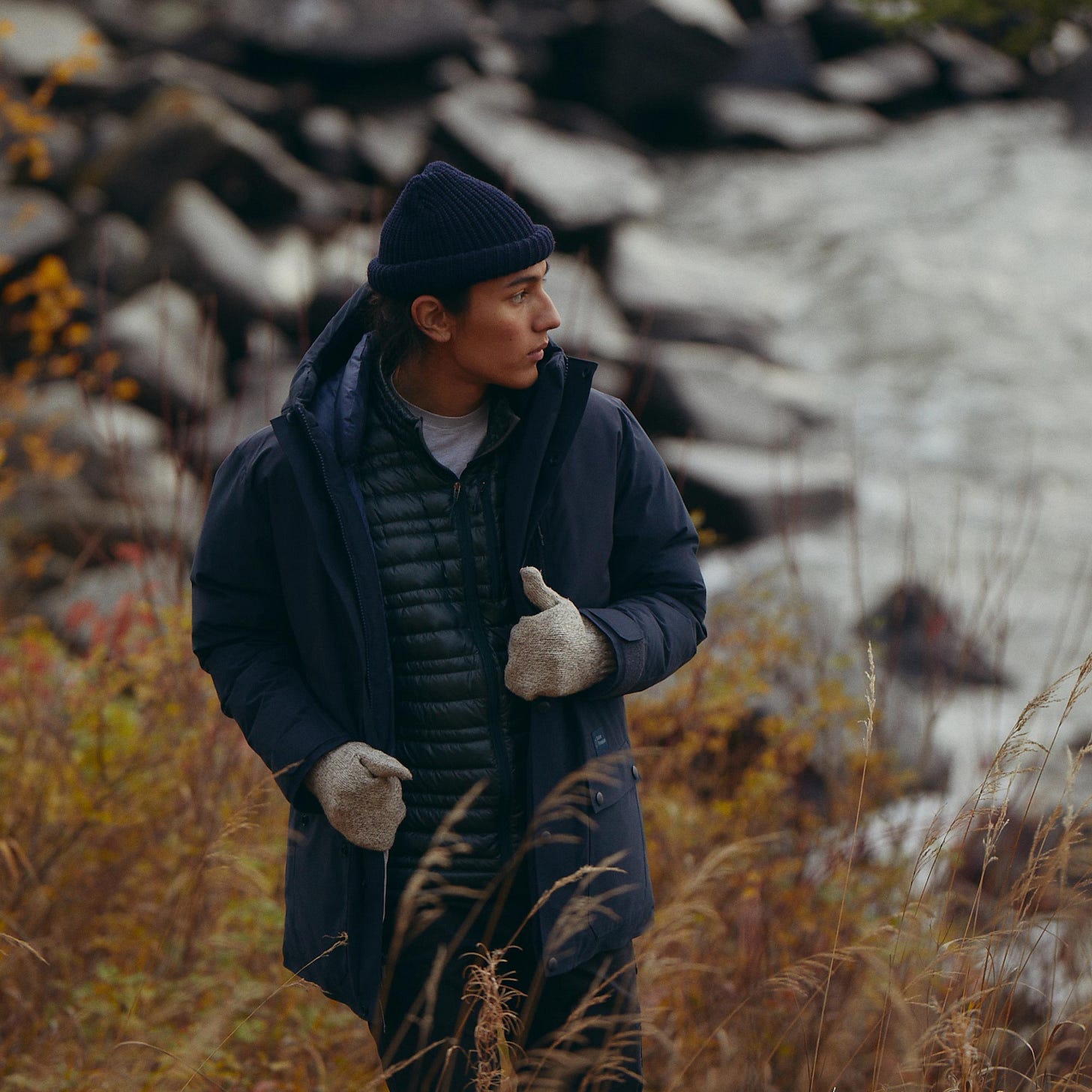 What have you learned from running a "sustainable" brand that more people should know with regard to apparel?
A lot of the attention gets put onto the materials brands use when making their products, and that's part of the equation to be sure. But what often goes overlooked is how fundamentally broken the model is, with imprecise demand forecasting, the resulting overproduction of inventory, and then inevitable markdowns and even the destruction of unsold goods in some cases. Consumers like the deals, but it's bad for business and even worse for the planet. The New York Times had a great article, Sweatpants Forever, that provided an unsparing assessment of the fashion industry. If companies continue to overproduce, it won't matter that their products are made from recycled plastic bottles – waste is waste. So we tested the idea this past summer of offering parkas for sale at a pre-season discount, and it worked really well. If we can incentivize people to buy early, rather than waiting until the season is over, we'll have a more accurate demand forecast in time to adjust our inventory commitments accordingly for greater efficiency. Plus customers get the product in time for when they actually need it, so it benefits them, too. I think some form of on-demand production, along with a growing focus on circularity, will be the future of the industry. 
I see a lot of confusion in the sustainable clothing world for consumers. It seems very difficult to discern what is real and what is greenwashing. Is there a way for us as consumers to know what to look for in a product? 
The term "sustainability" is kind of like the new "craft" – it's been thrown around almost to the point of being meaningless. There are a lot of companies that are trying to reduce their harm right now, and that's a good thing. But less bad is not the same as truly sustainable. The climate crisis has largely been caused by businesses and so we have a responsibility to help lead us out, but that means having a net-positive impact. At the very least, look for companies that have committed to carbon neutrality. B Corp status is another good indicator of a company's commitment to mission and values, and earlier this year Askov Finlayson became just the fourth certified B Corp in the outdoor clothing industry. Lastly, companies should make it easy for customers to be informed. We publish an annual report that's fully transparent about our climate impact, including a third-party audit. If a company is making sustainability claims, but not backing them up with data, then they probably have something to hide.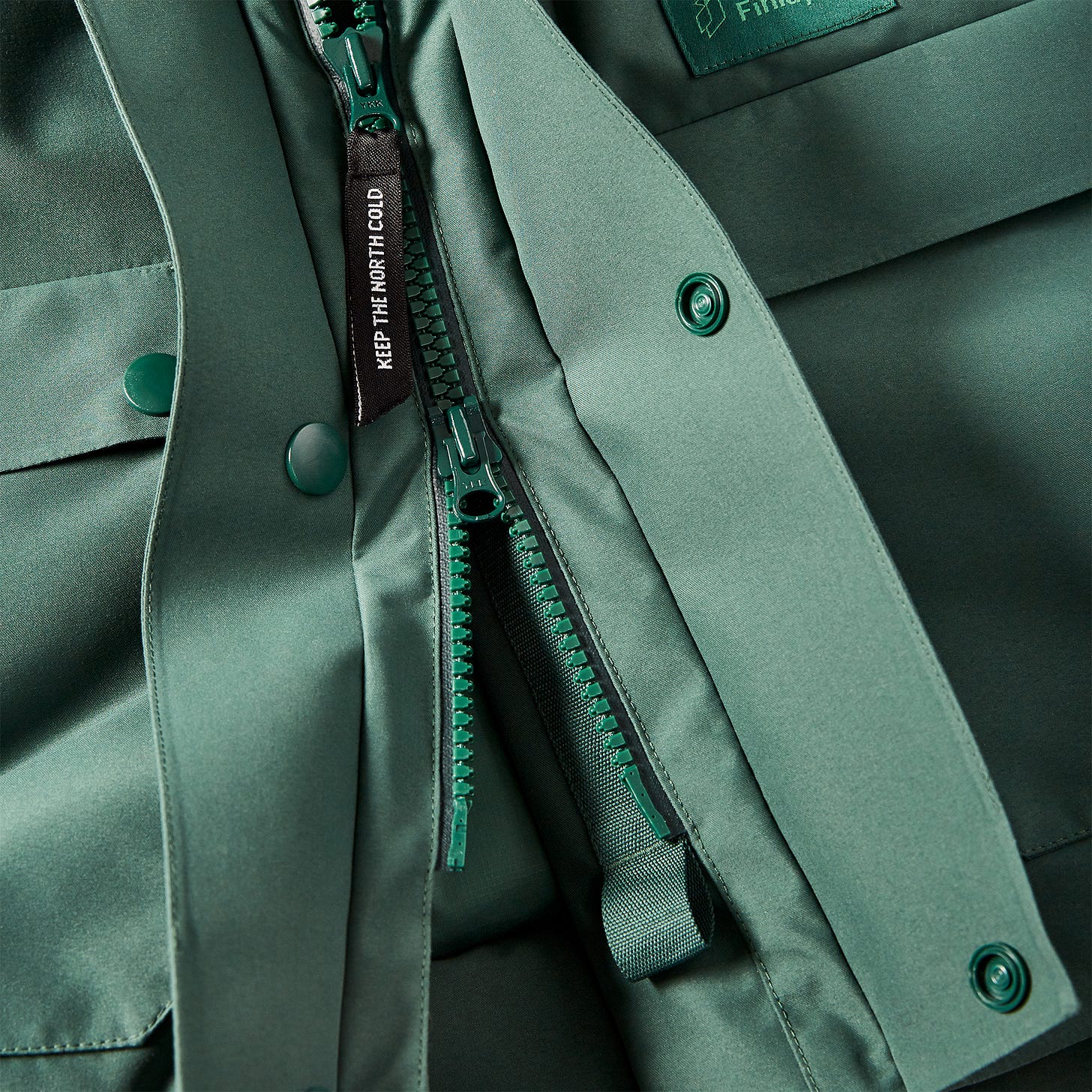 What is the simplest way consumers can be more environmentally conscious in our everyday lives? 
This is always my answer, but especially because of the timing of our conversation, I would say the greatest impact any individual can have is to vote. If we don't have the right elected leaders making decisions on our behalf with the environment – and specifically climate – in mind, then nothing else really matters. And then once you've cast your ballot, continue to vote with your dollars for businesses that align with your values. That doesn't just mean clothing and CPG brands. Think about other consumer decisions, too, like which bank you use. 
Are there any silver linings for you with all that has happened in 2020?
This has been a hard year, but the silver lining for me is that it forced me to slow down and simplify my life. By stripping away a lot, it's given me more time for what's most important. My wife and I have three young boys and working from home allows me to be more present in and for their lives. It's also given me more focus professionally, with less distraction. So it feels like I'm doing a better job at fewer, more significant things. And that's actually been very rewarding.